Google Trips – Thailand
Google has just released a new travel app, Google Trips, that will help reducing the hassle of your vacations in many major tourist cities all over the world. But does it really help when you're planning a trip to Thailand? We were also eager to find out the answers. And here are what we found: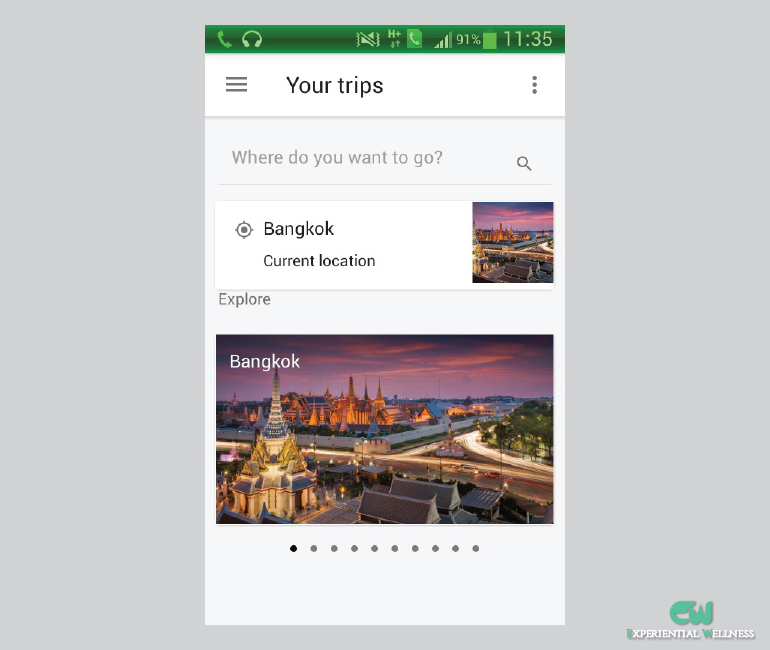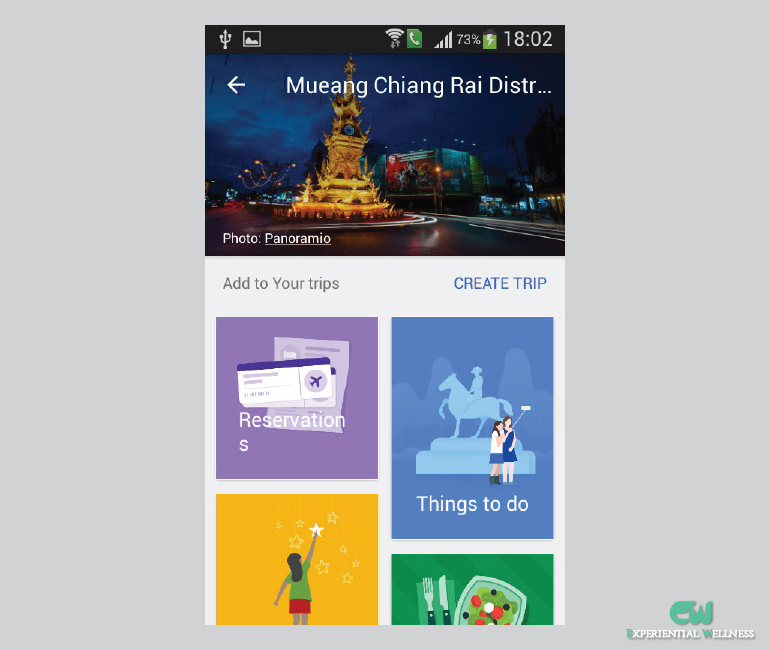 Things To Do
Things To Do includes lists of the most important attractions, which are categorized differently depending on the city you visiting. Bangkok, for instance, includes Royal Bangkok, Temples, Classic Markets, Vintage Shopping, Indoors, Outdoors, Kid Friendly, and Farther Away.
This way of categorization does make sense for most Thailand destinations, and we actually like it. After selecting a sight, we can also see a short description with a website and a directions button. The information is presented the same way that we see on Google Search. So most of us should be familiar with this style of Google.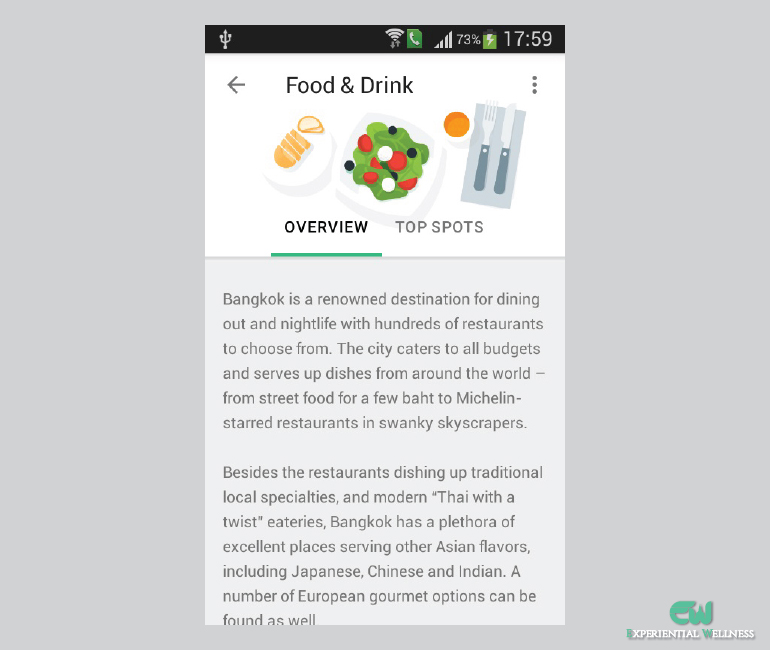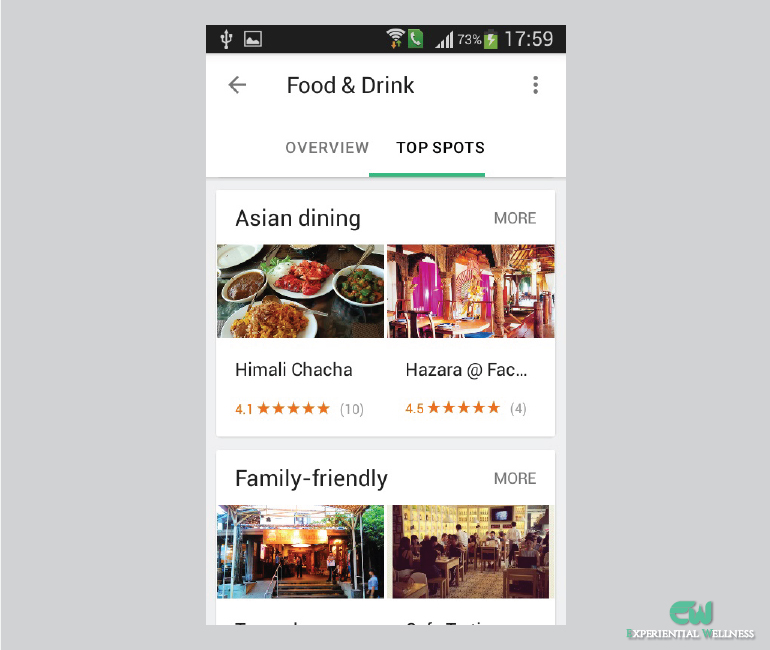 Food & Drink
The overview menu of Food & Drinks gives you a general idea about food and restaurants in the cities. It's a little bit too short at this moment but still interesting to read.
The Top Spots is not very useful, however. Similar to Things To Do, this menu is divided into several categories such as Classic Thai, Modern Thai, and Asian Dining, which can be useful for some small cities in Thailand but surely not for a big city. For big cities, we certainly need an option to sort by locations, as not many people are keen to drive 1 or 2 hours for every meal during their vacations.
Hey Google, please add an option to sort restaurants by location. It will make your Trips more wonderful!
Getting Around
The Getting Around menu covers several topics about transportation, including public transportation, taxis, and driving. It tells almost everything you need to know on the arrival day, although you should expect to pay a little bit more for a taxi meter than Trips' suggested.
Trips also states that most of Bangkok is not pedestrian friendly, suggesting you to avoid walking for a long distance, and mentions a few places that can be safely navigated on foot.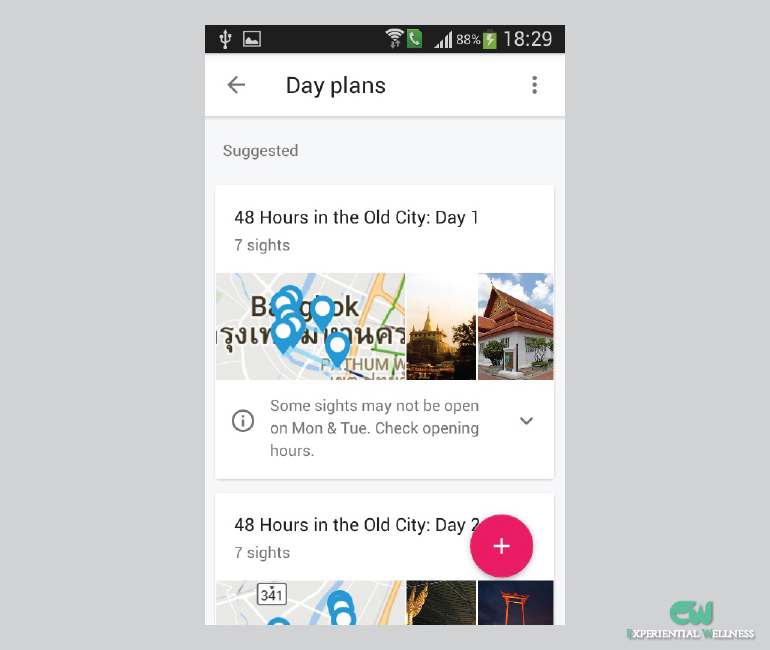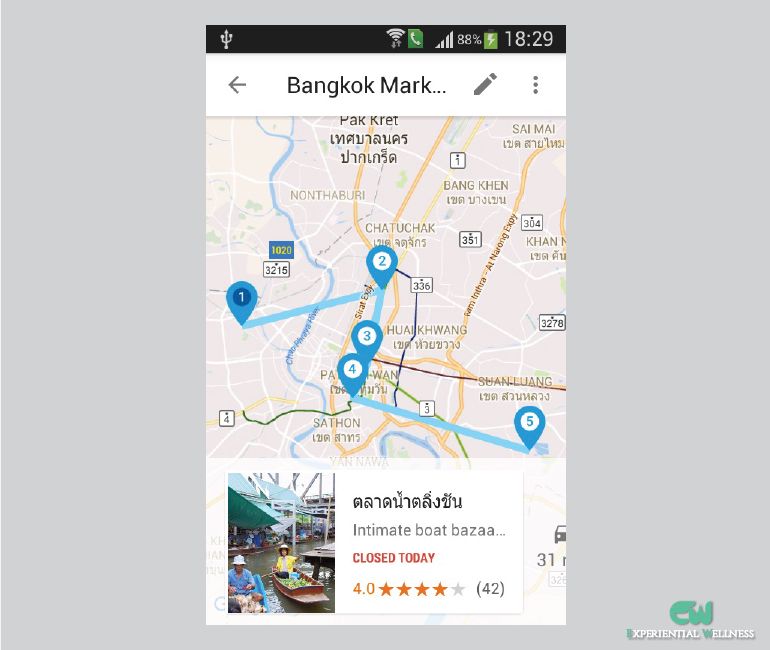 Day Plans
Google Trips launches its apps with 5 Itineraries (Day Plans) in Bangkok. They also recommend a few types of transportation. However, you should avoid using Day Plans to plan your vacations at all cost. At the time we write this, Trips' Day Plans doesn't provide enough information for any tourists to complete their trip on their own without assistance from a local friend or tour operator. Their itineraries are certainly not viable.
Their itinerary for Bangkok Markets, for instance, includes 5 destinations: Taling Chan Floating Market, Chatuchak Market, Pratu Nam Market, Patpong Night Market, and Rod Fai Night Market, respectively. This route is clearly not viable and was created by someone who has never visited these places. All of the markets are situated in a different part of Bangkok, and it's safe to assume that no one would want to visit all of these markets on a one-day trip. By the time you finished shopping at Patpong Night Market, Rod Fai Night Market would have been closing already.
Trips suggests a lot of walking without taking other factors, including the condition of pedestrian way and Thailand's hot and humid temperature, into consideration. And even though the app tells us that we need to use either a car or a transit, but it never shows any bus route number. So it doesn't help much when we want to know how to move from one destination to another.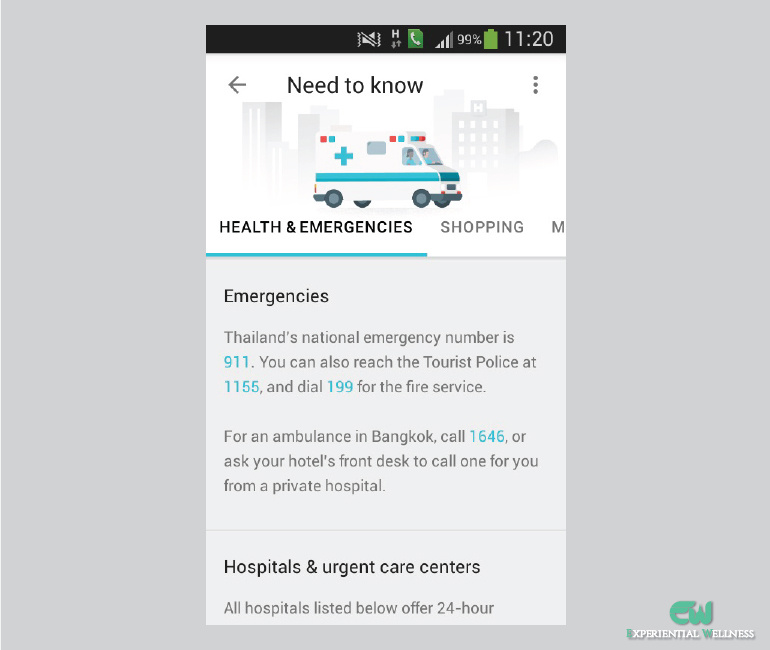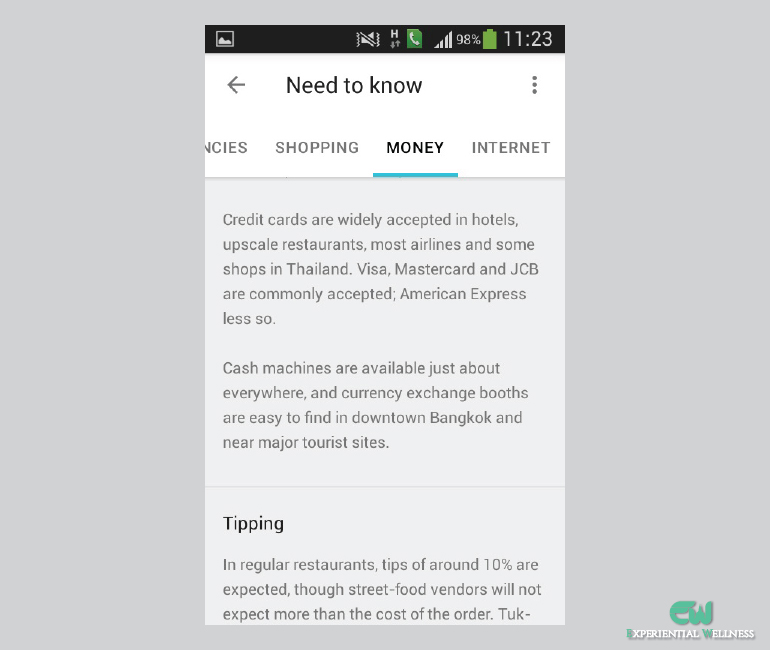 Thailand's Emergency Number
According to Trips, Thailand's emergency number is 911, and ones can also call 1646 for an ambulance in Bangkok. But that information is incorrect, so don't memorize it. There has been a rumor that Thailand is switching to 911, but that's wrong. The emergency number should never be wrong. We've filed a feedback report on this to Google and hope it will be fixed soon.
The correct emergency number is actually 191. Despite its focus on crime-related emergency, the operators can still forward your phone to another emergency department. I highly recommend that all tourists traveling to Thailand should also save the Tourist Police number (1155) and the Ambulance Emergency (1669) on your phone. The latter (1669) is very good comparing to other Thailand's emergency numbers, and can be used in any provinces of Thailand including Bangkok. The number is preferred over 1646 even in Bangkok, and it's much easier to call than 191 during the holidays or weekends.
FYI: 191 for police; 1669 for an ambulance, 1155 for the tourist police.
It's Good But Not Yet Reliable
Google hasn't completed its mission to reduce the hassle of your vacations. Trips doesn't work like it should, and the app is not practically viable in many ways in several parts of Thailand. And the wrong emergency number should be fixed immediately. Still, we can't say Google hasn't done a good job. The idea looks amazing and promising enough. There're a lot of interesting facts which is fun and useful to read, especially for first time visitors to Thailand. In other words, this app is a good place to start but not yet a reliable tool.